The Hattie Project is my ongoing transcription of the Great Plains diaries of my great-aunt Hattie, who wrote daily (yes, literally, every single day) from 1920-1957. The adventure began as a family project and has grown into something bigger, a passion project that is taking shape as the book that only I can write.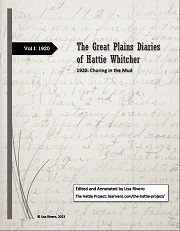 Readers interested in learning more about Hattie's life can download year 1920, edited and annotated, of Hattie's diary entries. Watch for the release of future volumes of the diaries.
I also occasionally share some of the Hattie Project in the form of Flash Narratives, short flash piece that are sometimes creative non-fiction, sometimes historical fiction, but always based on Hattie's words and life. Most of the flash narratives here are no longer than 500 words:
For more background information on Hattie's diaries, see these posts and sites. For your interest, feedback, and encouragement, Hattie and I thank you.
June 7, 1942: A Surprise on William
The Glorious Fourth of July